---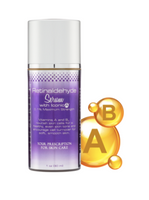 This corrective Retinaldehyde serum works for all skin types. Vitamins A and B reduce the appearance of fine lines and wrinkles, while Skin Script's proprietary blend brightens skin, reduces blemishes, and diminishes hyperpigmentation. Carnitine (L) and Bisabolol (L-Alpha) work to increase skin moisture content and soothe skin irritation.
Vitamins A & B nourish skin cells for even skin tone
Encourages cell turnover
Provides anti-inflammatory-like benefits
Lessens the appearance of wrinkles
Skin type:
Normal to dry, aging skin
Hyperpigmentation
Sun-damaged skin
Congested skin
Rough skin
Thin or sensitive skin
Those who have experienced moderate to severe side effects with products that contain pure Vitamin A
How to Use
Apply in the evening to face, neck, and upper chest after cleansing. Apply moisturizer on top. Shake well before use. As with all skin care products containing acids, make sure to use SPF when going outside.
Key Ingredients
IconicA (Retinal/Retinaldehyde) 2.5% converted into 0.1% Retinaldehyde is a stable and non-irritating form of Vitamin A addressing cell membrane health. As cells are exposed to environmental pollution and stress, IconicA allows for permeability of the cell to allow nutrition to flow in and cellular waste to escape the cell. This leads to healthy, soft cells with an even skin tone.
Niacinamide (5%) is Vitamin B3 addresses many skin disorders due to its anti-inflammatory properties. Vitamin B3 addresses cellular respiration, lipid synthesis, inhibiting skin pigmentation, and improving epidermal barrier function. Vitamin B3 treats the mitochondria (energy source) of the cell to repair DNA damage from the sun. Vitamin B3 also treats inflammatory acne.
Carnitine (L) transports essential fatty acids into mitochondria for energy production, increasing skin turnover, and limiting epidermal water loss.
SymWhite TM (Phenylethyl Resorcinol) is an effective skin brightener and antioxidant containing potent levels of tyrosinase inhibition.
Bisabolol (L-Alpha) acts as an anti-inflammatory, promotes wound healing, reduces sensitivity, and alleviates heat while soothing skin irritation.